Pork Rambutan is really just the same meat mixture used for lumpiang shanghai. Instead of wrapping it up, however, you shape it into meatballs and then roll it on crushed miswa (fine wheat noodle).
The basic ground pork recipe we used (we don't like stuff such as garlic and celery, hehe) follows:
1/2 kg ground pork
150 gms shrimp, chopped
1/4 cup finely chopped carrot
1 egg, slightly beaten
3 tablespoons finely chopped onions
1 teaspoon soy sauce
1 teaspoon sugar
1/2 teaspoon salt
1 pinch pepper
Combine all ingredients above and refrigerate. When ready to cook, shape the mixture into balls (about 1-inch balls for easy cooking), dip in beaten egg then roll over crushed miswa before frying in low heat.
suggestions:
* For tastier pork, add a dash of Knorr Liquid seasoning
** You can also insert a cube of quick-melting cheese in the middle of each ball for a cheesy surprise
*** Exchange a third of the pork with ground beef or your favorite sausages (chopped/ground)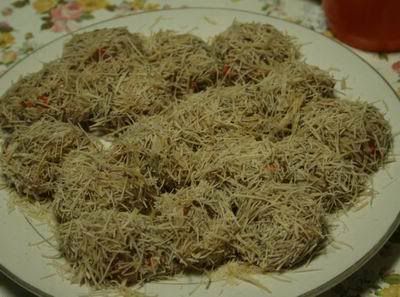 This is perfect for the media Noche feast as its round :)