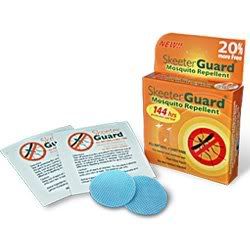 Skeeter Guard
is a Peel-stick Patch that does not require skin contact. You can just stick it on your child's clothes or on a table and crib and it will still be one effective mosquito repellent. This way, you need not be concerned about your baby's skin reacting to the lotion or spray that most repellents come in the form of.
Skeeter Guard is also all natural and Deet Free.
Contact exclusive Philippine distributor is Corsan's Pharmacare to stock up or resell:
CORSAN'S PHARMACARE
142 Capetown St.
Pasig Greenpark Village
Manggahan, Pasig City
(632) 645-8094/682-1596
corsanspharmacare@gmail.com
Concon Cordova - 0922-8149008
A box of 10 costs P175 (surely, P17.50 is a cheap price to pay for being mosquito-free for 12 hours?). They also ship (with a P50 charge via Xend Express) orders and are exhibiting in a lot of the Christmas bazaars happening in the metropolis.