Alex Franco
is popular in the wedding industry circle because he specializes in wedding cakes, with all layers edible, and cake embellishments used are real fruits and flowers.
I first tasted his cake at a wedding, and I immediately became obsessed (to think it was really only a sliver of cake that I managed to taste). But alas, his wedding cake rates were a little steep and I couldn't ask my future groom outright that i'd love to get him for our wedding. And fate also intervened by allowing us to win a cake from renowned cake artist,
Judy Uson
.
Anyway, other cake makers can indeed embellish and design their cakes wonderfully, adapting to a couple's motiff. But I seriously have yet to taste a cake that is more delicious than Alex Franco's (and mind you, I am not so easily pleased!). Eating a slice of one of his cakes is like snorkeling at the Great Barrier Reef, or seeing the sun rise at Machu Picchu, or getting a good bargain at a
St. Barts villa rentals
. In short, evey slice is pure heaven.
So it's really a great thing that Alex Fanco sells cakes too, for those who are not getting wed at all or anymore.
His current prices are:
9 inch cake - P600
10 inch = P900
12 inch = P1,800
16 inch = P4,000
The favorite flavor is called MIXED (not sure if it's the Black and White one referred to in wedding circles) which basically contains a layer of chocolate cake and a different-flavored other layer (go for prune walnut or walnut caramel) aside from the mango and chocolate mousse fillings.
He could be contacted via telefax (632) 533-1450 or cell (63) 0917-2769003. Order a week before you need the cake. And no, he doesn't deliver for such orders. The most is he'd meet you up at the Caltex Station at the Boni/EDSA area (beside 7-11).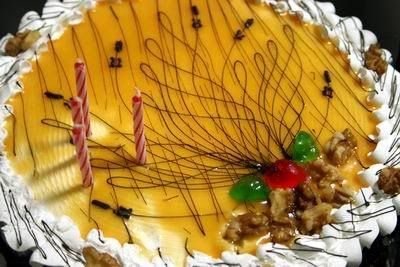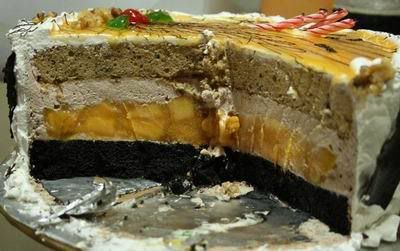 Oh, his cakes are best served
frozen
so if you don't have enough freezer space for the leftovers, you'd have to deal with a somewhat collapsing cake once the mango and mousse have started to soften. At worst, you'd be eating a slightly gooey cake but it would still taste great. But his cakes are really meant to be eaten when the mango and mouse fillings are still frozen :)
Oh and the cake is admittedly on the expensive side, but if you take into consideration how delicious every bite of it is (and trust me, the cake IS heavy), you'd realize that there are more overpriced cakes out there (Cheesecake, etc is an example, and i've never liked their cheesecake). And the cakes are always made up of several layers of goodness and richness so it's actually worth two cakes, at least (see picture above to have an idea of how tall the cake is).
Alex Franco is worth your money. Trust me!