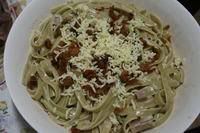 I like to call my
recipes
no-brainer ones because they're really just chop and mix types... they tend to be on the rich side, however.
Ingredients:
500 gms. pasta
250 ml Nestle Cream
1 1/2 cup Carnation Evap Milk
250 gms. CDO Sweet Ham (cut into half-inch squares)
1/4 bar, butter
250 gms. grated Eden cheese
salt and pepper to taste
1 small can button mushrooms (drained)
crunchy bacon bits (optional)
chopped green bell pepper (optional)
Directions:
Cook pasta according tp package instructions. Set aside.
Heat butter and saute ham (if using bacon, use some of the bacon fat instead). Add the mushrooms. Add the green bell pepper. Add the milk and cream. Stir until the mixture boils. Add half of the grated cheese and continue stirring while seasoning the creamy mixture according to taste.
Add the pasta and mix well. Top everything with bacon bits and remaining cheese.
* Note that cheese will absorb the liquid in the sauce; when reheating, you can either add some water or more milk to the pasta
* You can also use some chopped red bell pepper